OUR AWARDS
Off to a flying start in 2019!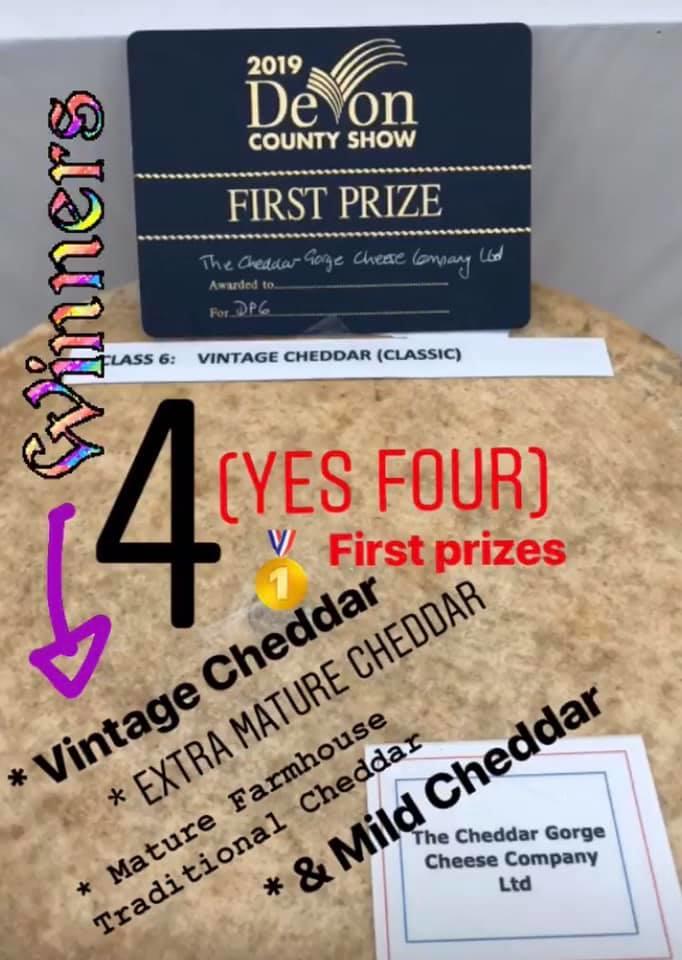 2019 has started off well! The first 'show' of the season kicked off, as ever, in Devon in May at the beautiful Devon County Show. We entered five cheeses (different age cheddars plus one smoked cheddar). We were delighted to win 4 firsts and 1 second! In addition we were awarded Reserve Champion and thrilled to be awared with a Silver Salver for 'BEST DRESSED CHEESE' too!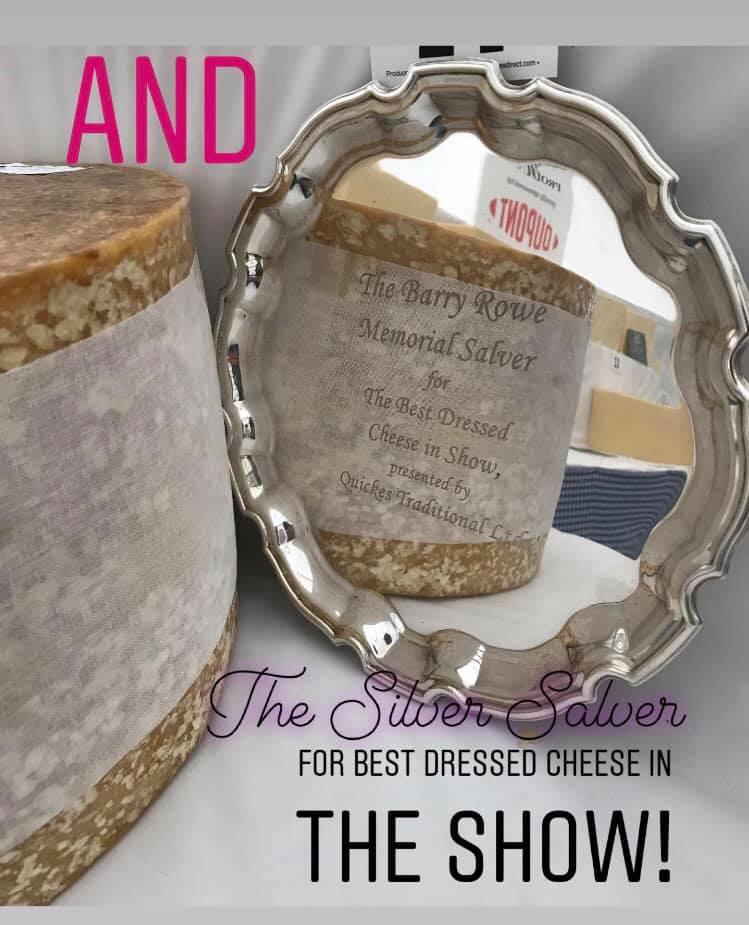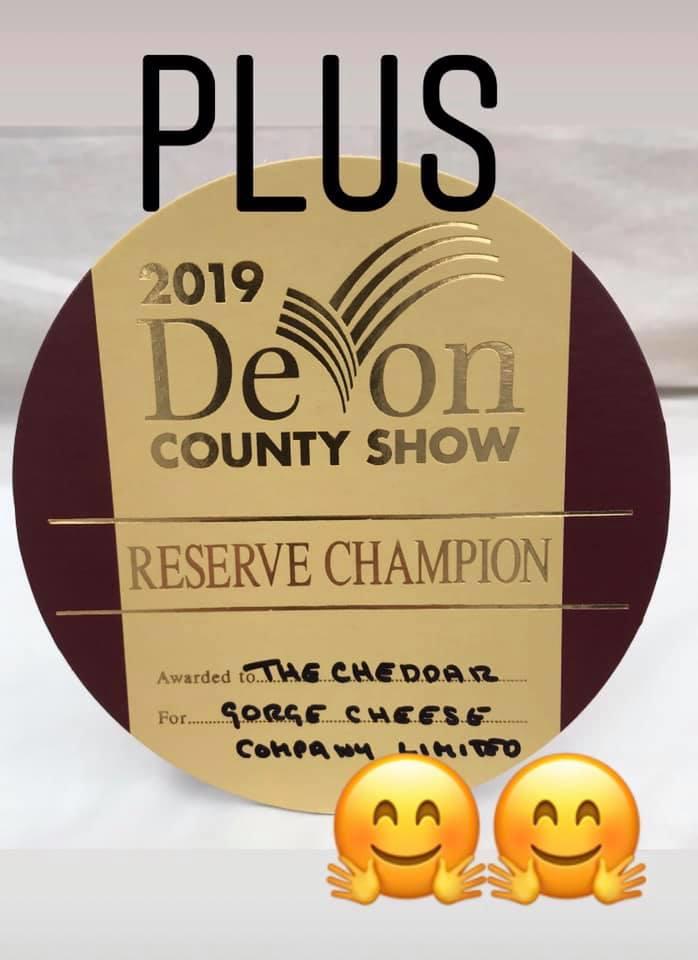 Wining cheeses were: Vintage, Extra Mature, Mature and Mild ( our 'Mellow') so we were thrilled to have awards for our complete age range of cheeses.
The British Cheese Awards 2018 at the The Royal Bath and West Show confirmed our hard work was paying off, when we took a Gold for our Vintage plus a Silver and Bronze.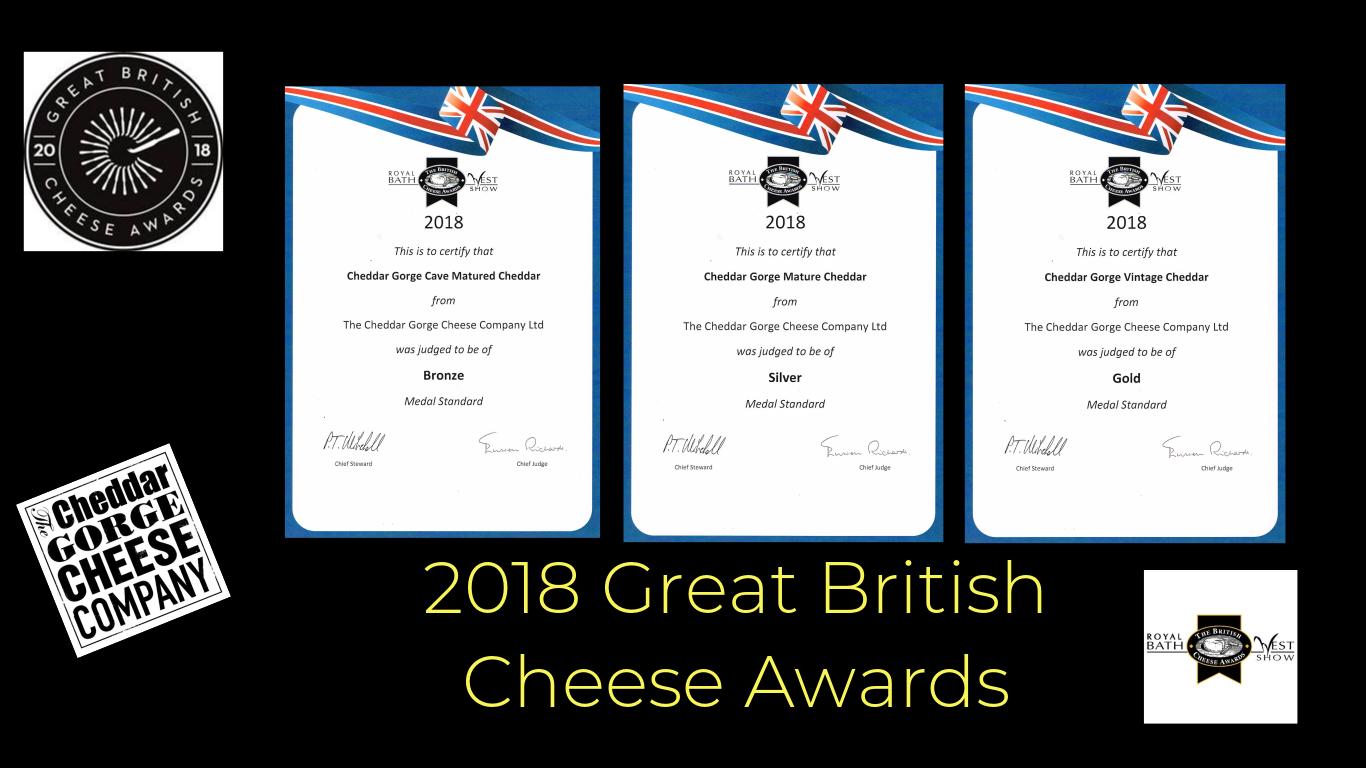 Our Vintage Cheddar was also shortlisted as one of the top ten cheeses in Britain by The Great British Food Awards.
The Global Cheese Awards celebrated our Mellow Cheddar with a silver medal.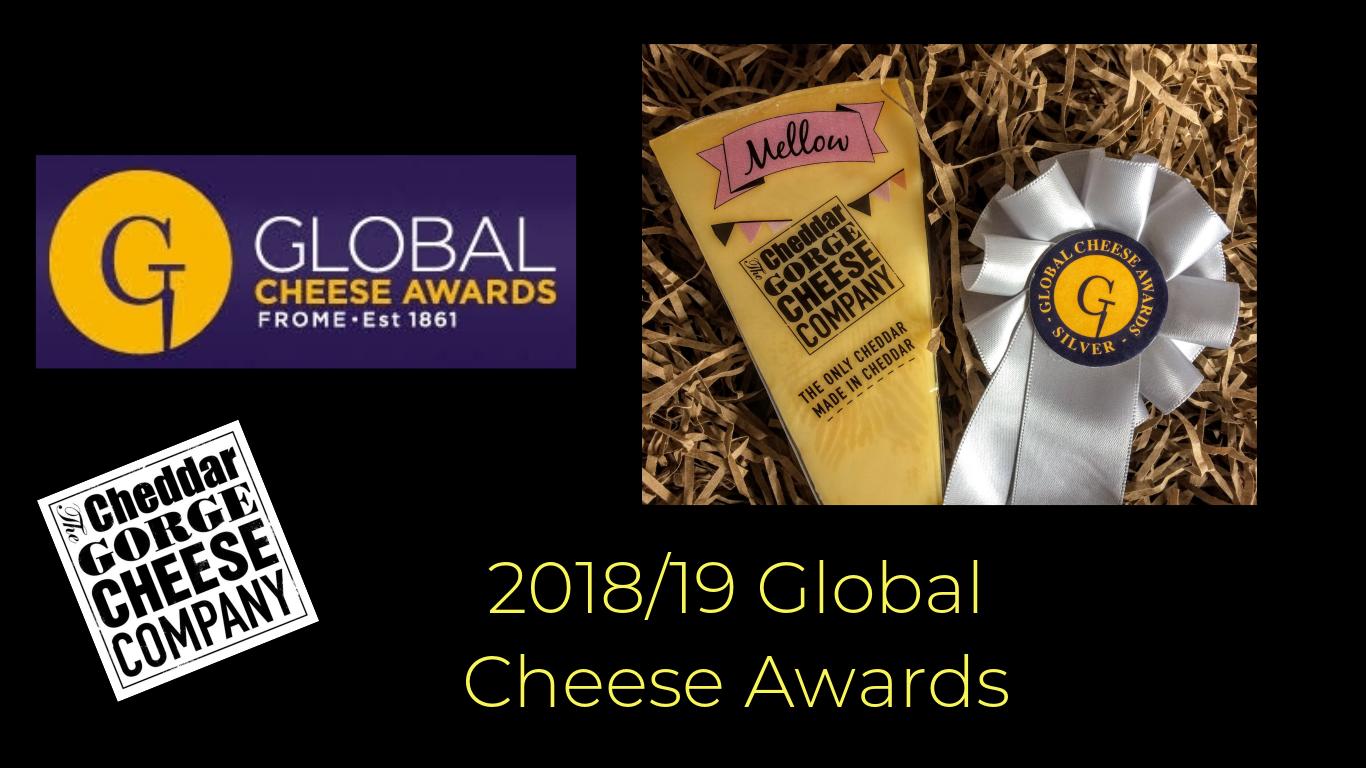 And we're celebrating a great year in many ways as The World Cheese Awards held in Bergen in Norway picked three of our cheeses as worthy winners out of a field of 3,500 entries! Not bad at all.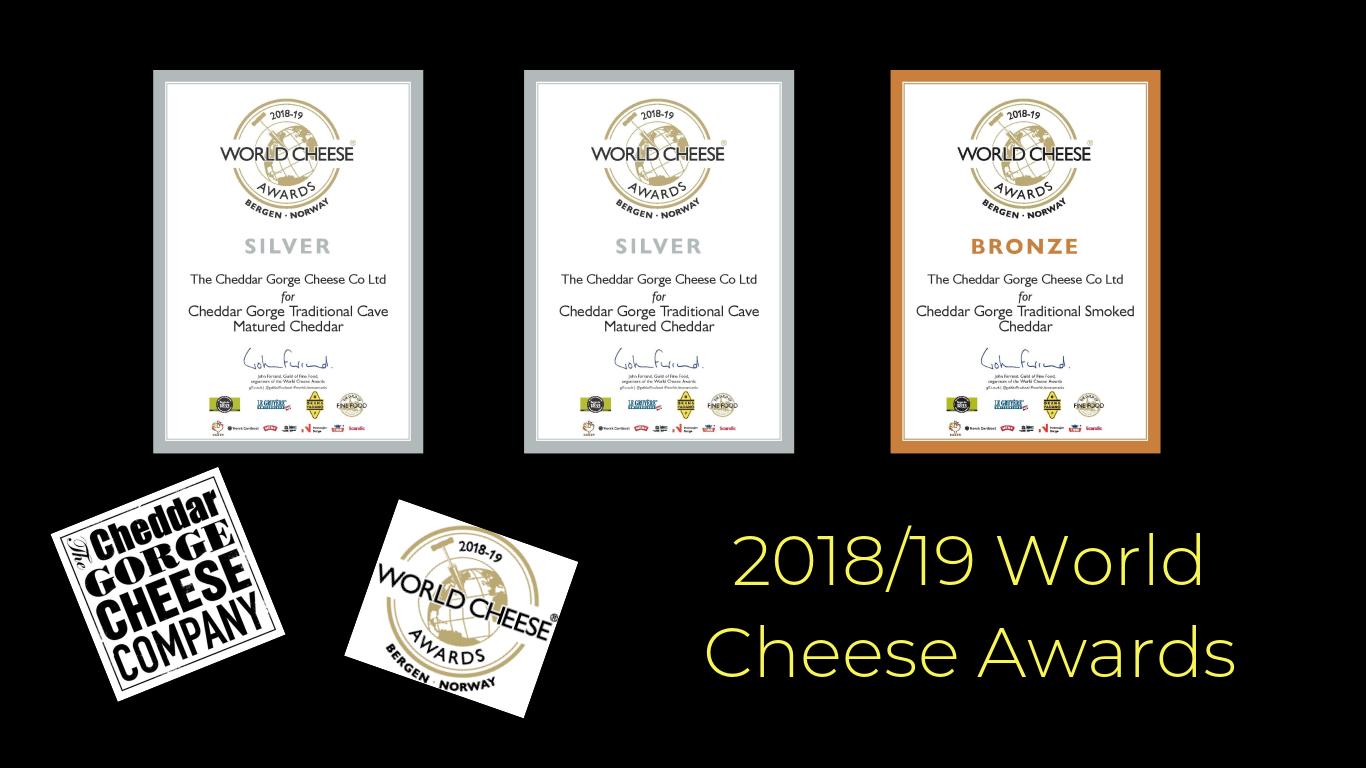 Naturally, we are proud when we receive recognition for all of our hard work. After all, a champion cheese can be up to two years in the maturing. That's a long time to plan, hope and wish! And everything we do from cutting the curd, through to the 'where and when' of the maturing, turning and testing, has an effect on the final product.
We don't make cheese specifically for awards. Our ethos means that the cheddar you buy from us, is through and through a champion cheese and the best of the best.
Awards are not automatic! They are perhaps the one time the cheese professionals get together and taste and compare cheeses from the regions, from the UK and ultimately from all over the world.
The cheeses that win prizes and accolades at this level are truly exceptional and showcase a thriving resurgence in traditional cheesemaking. So when we accept an award, and it is with pride and honour that we can say, this cheese is exceptional!
We have won many awards since taking over the Company in 2003 and have been collecting accolades and prizes since 2005. In 2008 we won 'Best Cheddar' at the World Cheese Awards. In 2013, again we won 'Best Cheddar' in the British Cheese Awards (122 cheddars entered!), and then in May 2017 we won 'Champion Cheese' at the Devon County Show.
In 2015 we were SALSA approved. [Safe and Local Supplier Approval]. This involves an independent annual audit of our Quality Management Systems and is highly regarded within the British Food Industry.
Every year we strive to improve quality and, some believe, a good measure can be found in the Cheese Competitions, particularly The World Cheese Awards, The British Cheese Awards, The Global Cheese Awards and some of the West Country Shows. Every year we enter these competitions and are proud to compete with the more famous and much longer-established Cheddar Cheese expert Families. (A full list of our awards dating back to 2005 is available if you're interested!) Our most recent awards include:
2018/19 World Cheese Awards: Silver/Vintage, Silver/ Cave Matured. Bronze/Oak Smoked.
2018 Great British Food Awards. Top Ten Cheeses in Britain shortlist.
2018 Global Cheese Awards Silver/ Mellow
2018 The British Cheese Awards (The Royal Bath and West Show) Gold/Vintage, Silver - Mature, Bronze - Cave Matured
2018 Devon County Show
1st Prize ( x2 ) - Vintage Cheddar, 1st Prize - Oak Smoked Cheddar, 1st Prize - Cave Matured Cheddar
2nd Prize - Mature Cheddar
2017 World Cheese Awards
Silver - Extra Mature Traditional Cheddar (Vintage)
2017 Global Cheese Awards
Silver - Extra Mature Cheddar, Silver - Mature Cheddar, Silver - Medium Cheddar (Mellow)
2017 The Devon County Show
Best Dairy Product In Show - Champion Cheese: Smoked Cheddar, 1st Prize - Smoked Cheddar, 1st Prize - Vintage 2nd Prize - Mature Cheddar
2016 Global Cheese Awards; Silver - Mature Cheddar, Bronze - Vintage Cheddar
2016 The British Cheese Awards: Bronze - Mellow Cheddar
2016 The Devon County Show: Silver/Cave Matured, Bronze/Mature Cheddar