ABOUT US
The family owned Cheddar Gorge Cheese Company is an independent small artisan cheddar cheese maker, the only producers of cheddar within the Village of Cheddar, Somerset - the birthplace of cheddar cheese. The company had been making traditional cheddar cheese here for many years, however, between 2000 and 2003 it suffered a decline and was very close to going out of business.
On August 13th 2003 John and Katherine Spencer took over the assets of the old Cheddar Gorge Cheese Company determined to restore the only cheddar made in Cheddar to its proper place. In order to achieve this they decided the only route was to make a Cheddar that truly reflected its heritage and authenticity. To this end only unpasteurised milk is used which is drawn from one local farm. The true nature of the Cheddar pastures are thus reflected in the cheese as was the case many centuries ago when Cheddar was first made in the area.
John and Katherine brought between them 80 years experience in the cheese and dairy industry; they even met over a Brie de Meaux! (John was supplying Brie to the Company Katherine worked for at the time). John has 36 years experience of setting up and running his own businesses; his strength is identifying gaps in the market, rolling up his sleeves and getting on with filling it. His expertise is developing markets according to demand. Katherine's obsession is quality assurance (in everything!), she manages all technical issues, having worked previously for some of the biggest names in UK cheese making.
The Cheddar Gorge Cheese Company combines high standards of traditional cheese production within a transparent production site, in the heart of Cheddar Gorge. Visitors are welcome to watch them make, cut and pack their cheese, learn more about cheese making in general where they offer a huge range of cheddars, plus other guest British cheeses for visitors to taste in their child- friendly, fully accessible retail shop, which is situated next to the Dairy. The shop in Cheddar is spacious and well stocked with beautiful cheese-related products and efficiently managed by friendly, knowledgeable staff.
Few people hand-make cheddar these days and The Company are doing their utmost to preserve and protect this dying practise. In the years since John & Katherine took over the Company, they have researched, experimented, tweaked and twiddled with the recipe, and are proud to have a superb team of staff who produce, mature, select, cut, pack and sell excellent quality, award winning, traditional cheddar cheese today. The result of which is quite different from the 'everyday' cheddar cheese we are all used to. "We can't compete on price with the large producers of block cheddar cheese, but we can compete on taste".
"We believe there is a market for both types of cheddar; and encourage you to try ours to compare".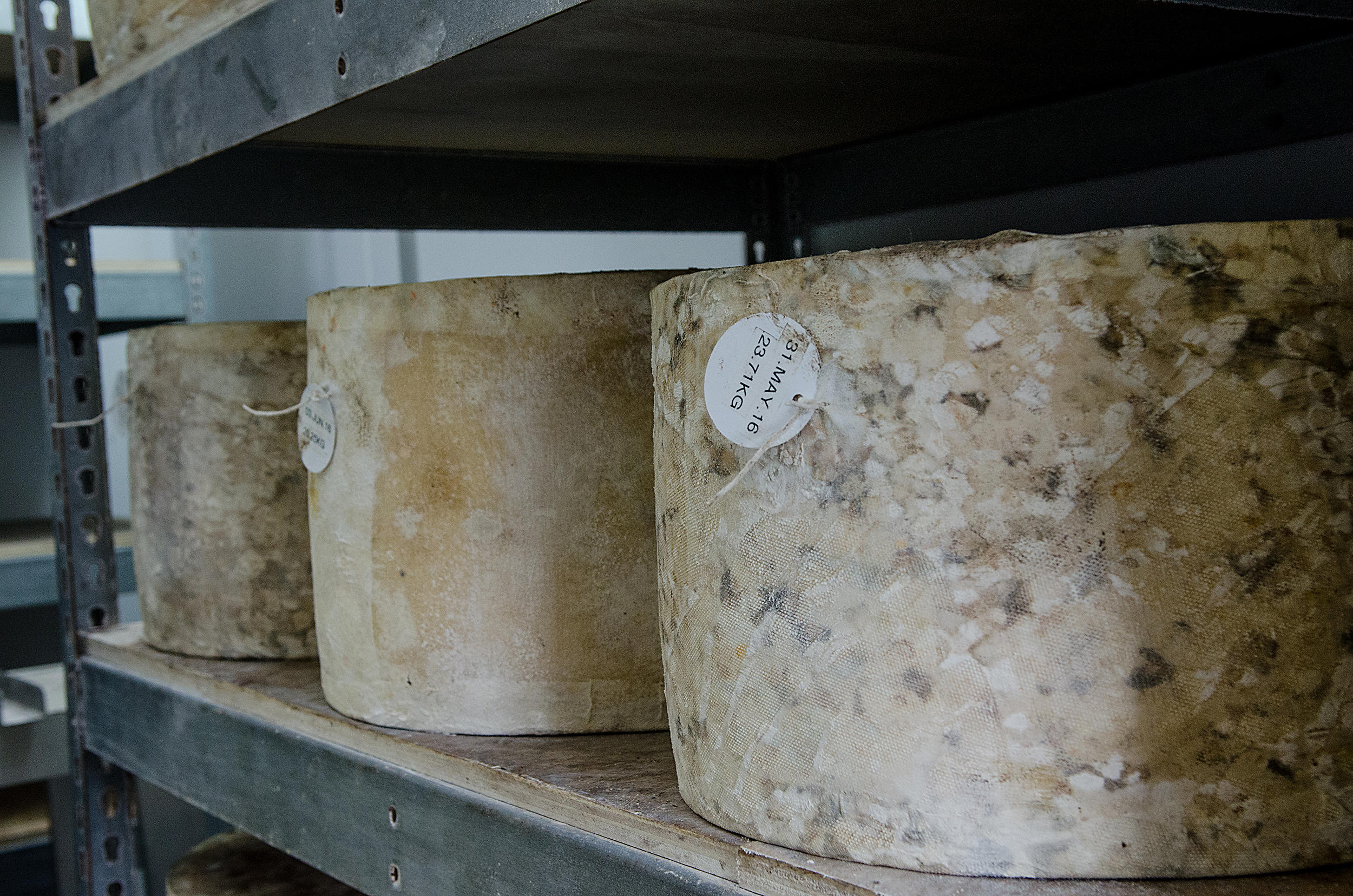 Traditional cheddar cheeses, long-matured in cloth
Skilled and conscientious cheese makers produce the finest authentic cheddar cheese, by hand, to an exceptional standard. This has been confirmed recently in May 2017 when they won 'CHAMPION CHEESE' at the Devon County Show, in 2013 'Best Cheddar' in the British Cheese Awards (122 cheddars entered!) and in 2008 'Best Cheddar' at the World Cheese Awards.
14 years of working on our recipe has finally paid off with these accolades! In 2015 we were SALSA approved. [Safe and Local Supplier Approval]. This confirms our commitment to high quality cheese production, superior ingredient sourcing, full traceability and compliance with regulations and good codes of practice.
In 2017 we were included in The Best of British Directory (Food and Drink Retailers). For more information and to view this rather special list, click HERE
.