WHERE YOU CAN BUY OUR CHEESE
Where better to buy our premium cheddar than in the heart of the old village where our shop is located at the bottom of Cheddar Gorge itself? Here you can sample our range of cheddars from 6 month-matured 'Mellow' to our unique 'Cave Matured' and classic 'Vintage' two year old cheddars. It's quite a range; tasting and comparing allows you and your palate to adjust and find the right cheese to tickle your taste buds. You can also sample our various naturally flavoured cheddars along with our esteemed Oak Smoked Cheddar and even our delicious Natural Blue Cheddar.
We stock a wide range of accompaniments including guest cheeses, pickles & preserves, cheese straws, savoury biscuits, pottery, cheeseboards and cheese knives too. Our friendly and knowledgeable staff are here to welcome you, offer advice, cheese tasters and answer any questions you may have.
We are open 7 days a week (with the exception of the Christmas few days) and we open at 10am. Closing times vary, depending on the season. In the winter we may close at 4pm when it is quiet, but during the holidays and summer season closing time is approximately 5.00pm.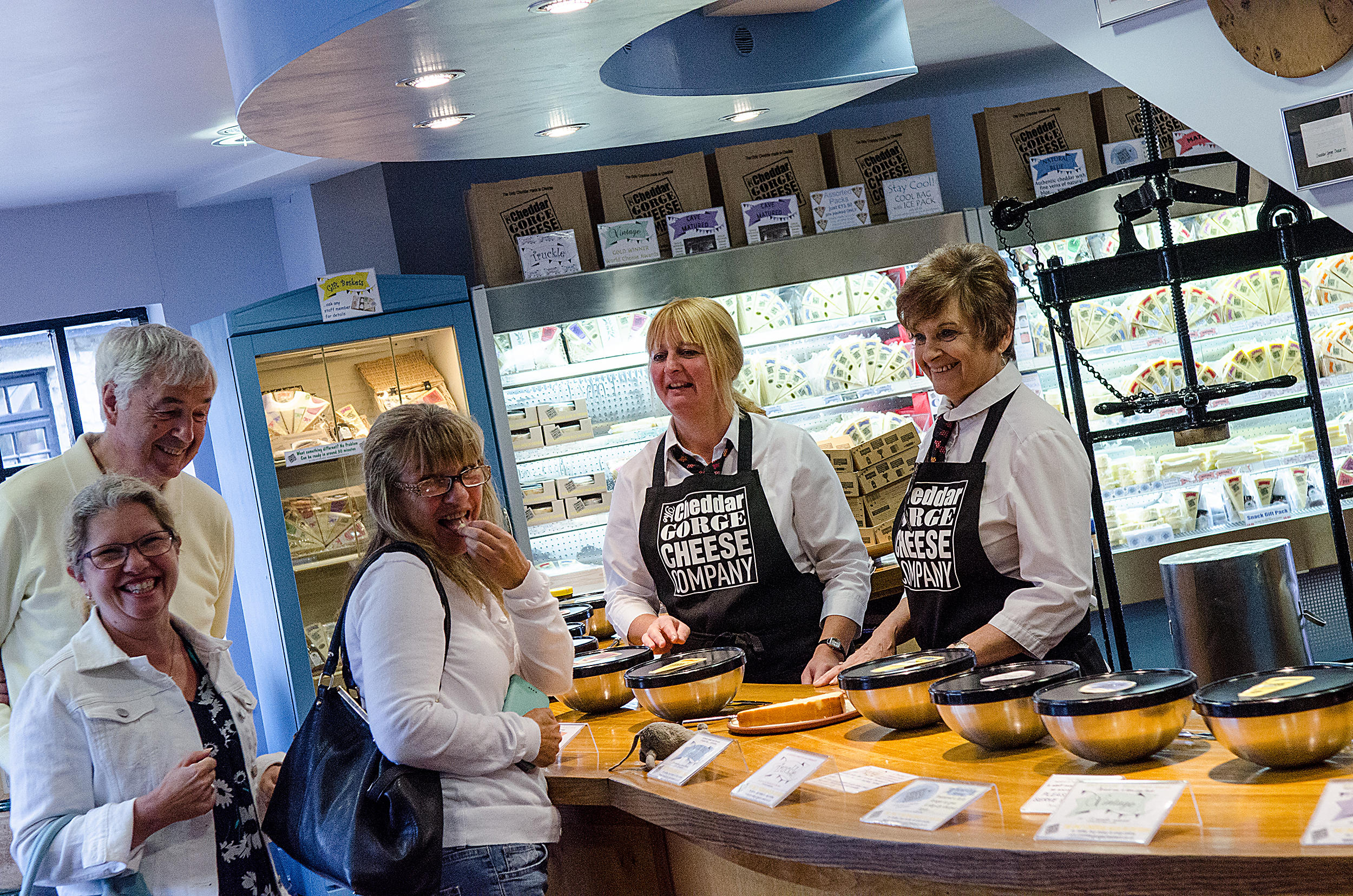 The Cheddar Gorge Cheese Company Shop
If you can't get to Cheddar, don't worry - you can buy our cheese and accompaniments online too. Go back to the Home Page, select what you want from the top page menus and we will prepare, pack and deliver to your front door. Many of our customers use this service as the perfect way to choose and send birthday, anniversary and special celebration or festive gifts. You can pre-order, and even send a message with your gift or hamper. (Please do check our terms and conditions for delivery dates and rates)
OUT AND ABOUT...
There are a growing number of Farm Shops, specialist cheese retailers and delicatessens who stock our cheeses and delectable cheese straws. Do give us call to find out if there's one close to you.
In addition, our lovely Sales Manager, Colin Sawyer looks after our Wholesale customers (and a great job he does too). If you would like to stock our products, please do get in touch. You can contact Colin direct on 07795 184339 or email him for more information.
We are proud to supply Wholefoods market in London.
Occasionally we do outside events and festivals such as The Longleat Food and Drink Festival in June and at Christmas time you can find us at the wonderful Bath Christmas Market which runs from around 22nd November to 9th December. Our hut is usually in Abbey Church Yard or York Street, close to Bath Abbey.
We'd love to see you. Many of our regular customers stop to say 'hi' while stocking up on cheese for their Christmas table and as gifts for friends and family!
However you buy our cheese, we do our utmost to produce some of the best authentic cheddar cheese in the world. We like hearing from our customers and are always happy to answer any questions, either by email or by phone, 01934 742810 during business hours. Don't forget our social media - it's amazing what you can discover on Twitter, Instagram and Facebook these days!
If you want to keep right up to date with our news and be the first to hear about special offers why not sign up for our Newsletter and stay in touch? (just add your email address at the bottom of our website homepage).